The Erasmus for Young Entrepreneurs Programme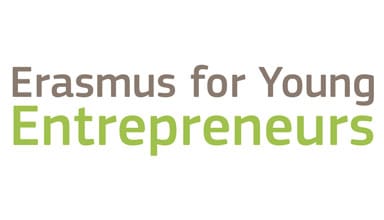 The Erasmus for Young Entrepreneurs Programme is a cross-border exchange programme that gives new or aspiring entrepreneurs the chance to learn from experienced entrepreneurs running small businesses in other Participating Countries. The programme is completely financed by European Commission and from 2009 promotes the professional growth and the internationalization of enterprises.
The countries participating in the programme are the 28 EU States members, Liechtenstein, Norway, the Former Yugoslav Republic of Macedonia, Iceland, Montenegro, Turkey, Albania, Serbia and Israel.
Who is a New Entrepreneur?
New Entrepreneurs (NE) are "would-be" entrepreneurs, firmly planning to start a business or entrepreneurs having started their own business within the last 3 years. There is no age limit.
Which are the opportunities for New Entrepreneurs?
Participating in the programme, a New Entrepreneur will benefit from on-the-job training in a small or medium-sized enterprise, for a period from 1 to 6 months. It is an unique opportunity, if you would like to achieve these goals:
To do market research, rising new business opportunity.
To develop new innovative projects.
To give a different look to already existing projects.
To improve your management and financial skills.
To sharpen your business planning capacity.
To acquire new marketing and selling strategies.
To enrich your net of relationships and contacts, making the first step in the internationalization of your business
To perfect your languages and communicative aptitudes.
Who is a Host Entrepreneur?
Host Entrepreneurs (HE) are small or medium-sized enterprises, associations or not-for-profit involved in economic activities, which have at least 3 years of experience and the will to share their knowledge and skills.
Which are the opportunities for Host Entrepreneurs?
Host Entrepreneurs who decide to participate in the programme are called to put to use the young entrepreneur in all their competencies, in order to enhance a mutual process of growth. In this way, the HE has the opportunity to:
Collaborate with a motivated and full of energy young entrepreneur, who can give an important contribution thanks to new perspectives and skills.
Learn from the NE specialized skills in a new sector.
Carry out the role of mentor or coach.
Research on foreign markets, creating new business opportunities.
Internationalize and enrich the partners network.
Improve languages competencies.
Gain a positive image coming back.
JO Consulting's role
Apart from NEs and HEs, the third protagonists of this adventure are the Intermediary Organizations. JO Consultingis the local contact point for Southern Italy and will help you in completing your application, establishing a successful relationship with a suitable entrepreneur as well as providing you with all the answers to your questions. Do not hesitate to contact us for further information. We are glad to hear from you!
JO Consulting S.r.l.
Via Mario Sangiorgi n. 37
95129 Catania
EPO – European Project Office
Tel.+39 095-7463250
epo@jogroup.eu
Visit the official EYE programme website: www.erasmus-entrepreneurs.eu